PHILOSOPHY OF RESPONSIBILITY
August 13, 2008
by: jovial_cynic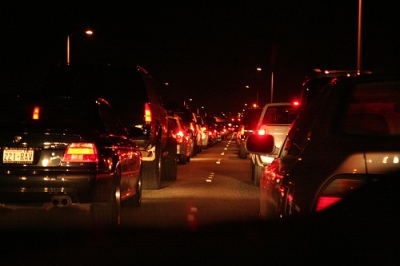 image:
Seattle Bridge Traffic
(
cc
) DelScorchoSauce
I've got an idea brewing in my head. I'm not sure how it all plays out yet, but I wanted to post it to see what kind of reaction I got out of it.
I've got several broad sweeping philosophies about life, none of which are meant to be set in concrete, but rather serve to provide some framework for how I handle general decisions in my life. Some of these philosophies emerge out of a pattern of my behavior; that is, I discover that the
reason
for my actions is because of this underlying way of viewing the world -- I simply hadn't put words to the philosophy yet. In other cases, I stumble upon a new philosophy and begin to change my behavior to align with that new way of thinking, just to flesh it out and see how it works.
I recently encountered a philosophy on
responsibility
. Not in the "how to be a responsible person" sort of way, but rather the "how should we view the things over which we are responsible" idea. A co-worker and I chatted a bit over the issue of responsibility as it relates to private transportation, and we noted that the act of driving puts us in a situation where we are responsible for something that can cause much more damage than we are capable of repairing. A collision can cost hundreds of thousands of dollars, and people can die. In 2006 alone, there were
38,588 fatal car crashes
. That's rather mind-boggling.
But we don't think about this. As a society, we are comfortable paying insurance companies a premium to take on that responsibility so that we can continue our lifestyle without worrying about the consequences. We simply pass the burden.
While driving with auto insurance is viewed as the "responsible" thing to do, I wonder if it does, in fact, make us
less
responsible people. A less responsible society. By engaging in risky activity and ignoring the potential consequences (because we know someone else will clean the mess), we behave like people in the 18-22 age bracket that
think
that they are responsible, but they know that they can always call their parents to bail them out of debt or jail or whatever other trouble they've encountered. This isn't being responsible. This is letting others be responsible for our actions. I can't help but feel that if people were personally liable for any damages they caused while driving, people would drive quite differently. Or not at all.
And I wonder what else would be impacted if people embraced a personal-responsibility philosophy? I don't know how far it could reach... but I do know that if people only engaged in activity that they could personally afford to cover, debt simply wouldn't exist. Would a different world that would be.