KINETIC VISION MEDIA
July 24, 2008
by: jovial_cynic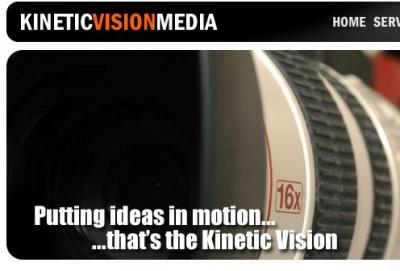 Kinetic Vision Media
I wonder, at times, what the difference is between a small business (which I love) and big business (which I loathe), and when that line is crossed. Or if there is a line. My general disdain for corporations seems to be aimed at the negative impact that they often have on the environment, on the local market, and perhaps on the quality of life (measured in vague things like "happiness," as opposed to quasi-tangible dollars), whereas my appreciation for small businesses is that a small business seem to better reflects human
grit
and ingenuity.
But this isn't always the case. There are large businesses that I think provide a fantastic service to the community (life insurance, for example), and there are small businesses that are rotten to their core (shady used car salesmen come to mind). But I think I gravite towards criticism of larger businesses because I feel that they, being powerful, have a greater responsibility to the world around them. Their sphere of influence is greater, and they are ultimately more capable of doing harm, and also more capable of preventing harm caused by the natural running of the business. I think that scrutiny is reasonable.
But the reality is that unscrupulous people who run small businesses shouldn't really be treated any differently than those that run large businesses. What we see is that the same punk kid with a slingshot shooting out windows is that same punk adult involved in a hit-and-run scenario. There's just more damage being done because the adult has been given a larger sphere of influence.
All that said, my friend Ken Carlson runs a small business.
Kinetic Vision Media
- a full-service video production company out of Olympia, Washington that's already got several commercials under its belt, some local-artist music videos, and a handful of the bread-and-butter wedding videos that got him started in the first place. Because he's a friend that I've known for many years, I know that his business isn't run by some get-rich-quick chump. He loves this stuff.
And perhaps as I imagine his business getting larger... maybe involving travel, or the hiring of more employees, etc., I may have to remind myself that big doesn't equal bad. The same decent kid who's willing to help out a stranger in need may be that same decent adult who devotes some of his time and resources towards important social issues.
If you don't have any video production needs, but are interested in what Ken is doing, he's also
started a blog
. It'll be neat to follow his progress through his thoughts, so if you're interested, give it a read.
Cheers, Ken.