PINEAPPLE ORANGE BATCH
June 16, 2008
by: jovial_cynic
My brother-in-law, inspired by my previous goofy attempts at making wine out of mint and other things around the house, decided to make his own batch. He's got plenty of mint growing crazy in his yard, so after collecting a bunch, he got himself a healthy batch of country wine.
Not to be outdone, I decided to get my own batch started up.
I had an old can of frozen juice that's been sitting in the freezer for too long. Pineapple orange. Yum.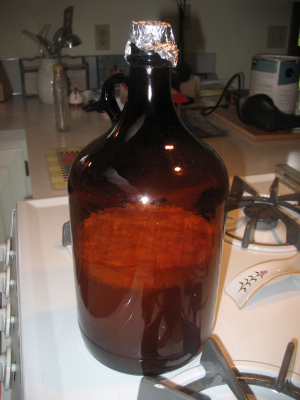 I found this great jug at a garage sale for $3. Looks like a booze-making jug.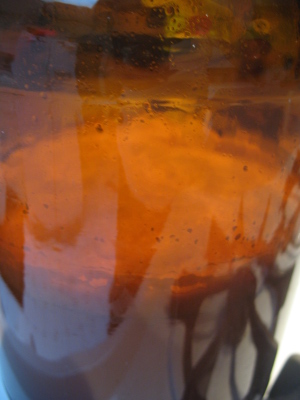 After mixing the can with a pitcher of water, and throwing in about a cup of sugar and a packet of yeast, I let the jug sit lightly covered in my pantry. This morning, there was a healthy level of foam on top -- looks like the yeast is enjoying the sugar bath. In about two weeks, this should turn into something delicious.