BUGS-IN-LAW
May 26, 2008
by: jovial_cynic
I visited my brother-in-law and his wife in eastern Washington, as they recently purchased their first home. While there, I happened to see a bunch of
familiar ants
from a colony under his back patio.
As it turns out, the ants go crazy over Doritos - something I didn't realize when I had my own aphaenogaster colony. I just figured that all ants liked sugar. I guess these ants like salty foods as well.
Here's a nice close-up shot of one of the critters.
I also managed to stumble upon a beautiful little spider. I don't see a lot of hairy spiders on the west coast, so I wanted to get a good shot of it.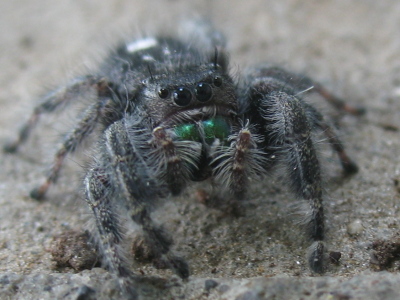 (click for big)
Look at those green iridescent fangs. Delicious.
And here's a video of the spider running away from me.
And since my digital camera handles video well enough, I figured I'd capture a video of a little roley poley bug as well. They're so cute.