ART MANNEQUIN
February 26, 2008
by: jovial_cynic
Many of my welded figurines are humans, engaging in various human activities, such as
riding a toboggan
,
carrying an AK-47
,
pulling a llama
, etc., etc. Generally, I'm able to pose the figurines as I create them -- they're not so complex that they require any planning.
Sometimes, I get requests for figurines doing more elaborate things. For instance, I just got an order for another
King Cthulhu
figurine with
"legs crouching just a bit like he's about to leap up at you."
At 10 inches tall with a 10-inch wingspan, I can't just bend pieces into place to make it work.
I hunted around on eBay and found this fantastic thing: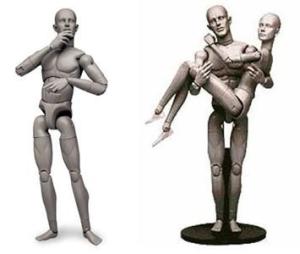 It's a 12-inch fully articulated posable figurine. I just purchased the male figurine -- I don't need two of them, and since my figures are generally androgynous, having a slender (read: more fragile) female figurine would be unnecessary. They do look cool together, though.
Details:
This male manikin is anatomically proportioned and has over 30 points of articulation, allowing it to display nearly the full range of human movement. The neutral gray plastic body is durable and will not distract the eye when sketching.
Both male and female heads have generic facial features, and the hands are crafted with distinctive, expressive fingers to aid with detailed drawing studies. The fingers, however, are not moveable. The legs are able to move sideways and can be placed in a squat position. The head of this male manikin pivots at the shoulder blades. The body has true human proportions in 1/6 scale. Stands 12" high and includes a display stand.
Fun. I should have little difficulty creating more complex figures with this thing around.