DARK ENCLOSED SPACES
February 17, 2008
by: jovial_cynic
I've always been at least mildly claustrophobic -- much more so as a child than as an adult. As a child, I would refuse to ride in elevators. I wouldn't even go into public restrooms without leaving a shoe in the doorway to keep the door from closing. I had this horrible fear that I would be trapped with no way to get out.
Last week, my wife told me that the heater vents to our daughters' rooms weren't pumping out any heat, and that instead, cold air was coming up through them all the time. We suspected that the raccoons that hid under our back deck might have found a way into the crawl space and made their way into the duct-work, or knocked some of it down in an attempt to get warm.
The only way to find out exactly what happened was to go under the house to check out the vents.
:: shudder ::
I ran to Home Depot to grab some necessary gear -- foil tape and some 3' lengths of zip-ties, plus a handy LED camping light, and got myself ready to face one of my greatest fears.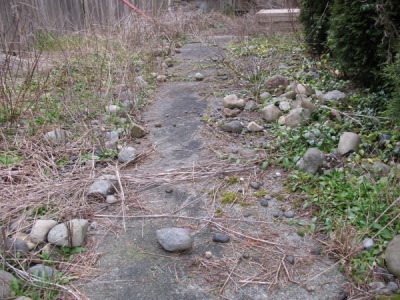 This is the pathway to horror. How many adventurers have gone before me, never to return?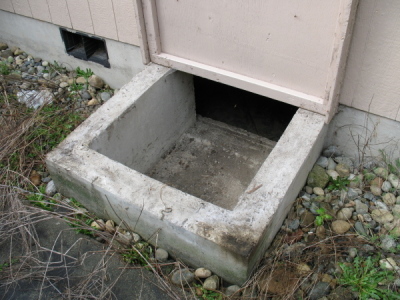 The catacombs await me. That, and whatever critters might be down there. Hungry critters.
This was my first encounter as I headed down. Delicious.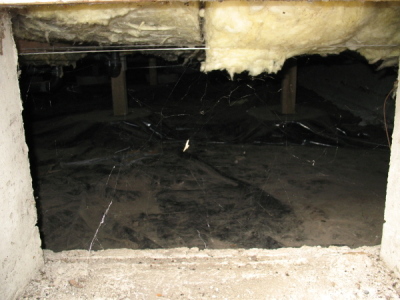 It's dark in there. And those spiderwebs are
everywhere
. For that reason, I wore beanie and wielded a short staff to protect myself from webs and whatever else I might encounter.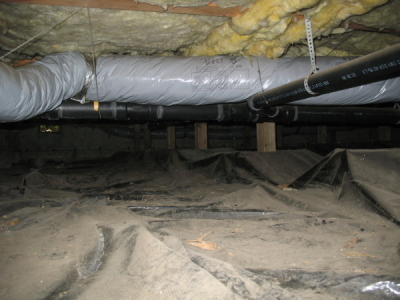 Right away, I got a good idea of the layout of the crawl space. The house apparently sits on posts, and suspended from the ceiling of the crawl space, just below the fiberglass, is a network of insulated plastic tubes -- these are the ducts.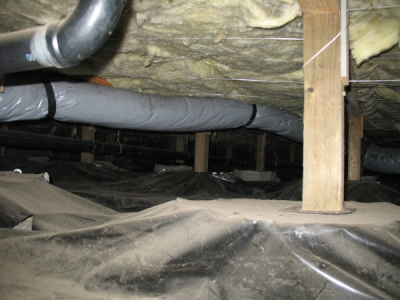 Here's another shot of the duct work. I believe the black plastic network of tubes is the plumbing.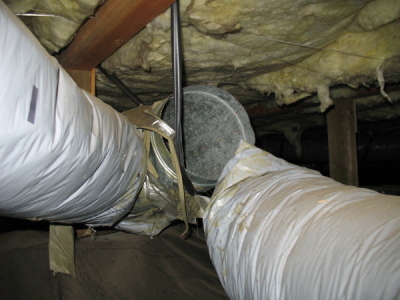 Following the duct work through half the house, I found the source of the problem. This was not caused by an animal; this was caused by poor workmanship. The duct was apparently held together with just a couple of layers of duct tape, and it finally fell apart. I sealed it up with a zip-tie and several layers of foil tape.
Unfortunately, I forgot to take pictures of my completed work. I'll go under again and edit this post when I have some pictures.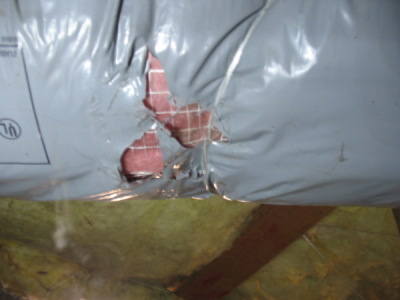 Following the duct work around the house, I found a few spots that needed to be repaired.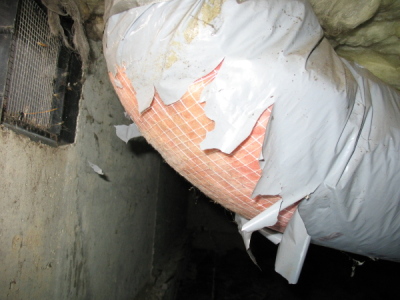 This spot was in front of an air vent that gets a lot of sunlight. It took quite a bit of tape to patch it up.
While down there, I actually forgot about my claustrophobia. I stopped a couple of times and just laid on my back and relaxed. All the insulation under the house blocks out a lot of the sound, and coming from a house with three kids, it was rather pleasant.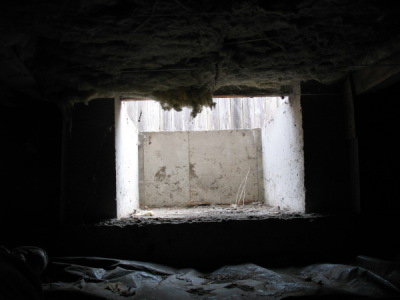 In spite of the quiet, I couldn't stay down there for too long without freaking out a little bit. I was quite relieved to approach the exit.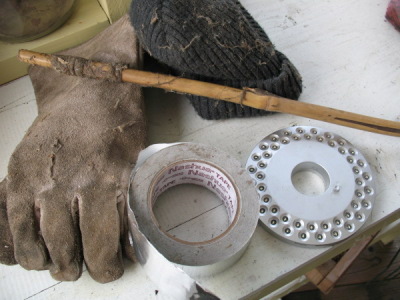 This is the gear of the dungeon-crawling adventurer. I'm glad to be done.