DIY
Doing it myself, and breaking things in the process.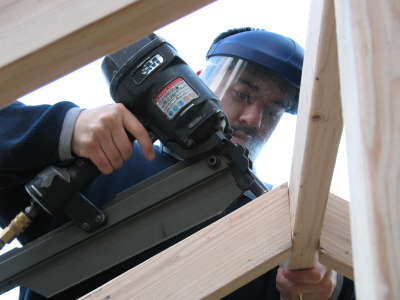 Personally, I'd like to know how to do everything. At least, as it relates to preventing me from having to pay somebody else to do it for me. I find it quite silly that the service-sector of our economy is based around the fact that most people don't know how to do anything.
PANTRY DOOR
2012-04-15 09:05:13
by: jovial_cynic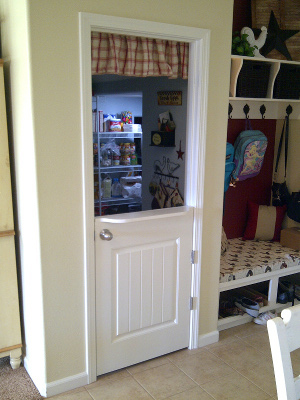 My wife and I have been taking on some more home decorating projects. Typically, this involves my wife finding something she likes on Pinterest and having me or her dad buy the parts and build it. This time around, the idea was mine.
We have a good-sized pantry in our kitchen. It's actually pretty impressive, and it's always been a shame that there's a door that's in the way.
Problem solved.
This project consisted of the following:
1. Cutting the door in half
2. Relocating the top hinge
3. Cutting some 5/8" MDF board for a shelf on the door
4. Mounting the shelf and building a rear support for it
5. Paint
Between the half-door and the short curtain on top, it looks very inviting. I'm pleased with it.
comments [0]
USB RAZOR
2012-01-09 19:49:50
by: jovial_cynic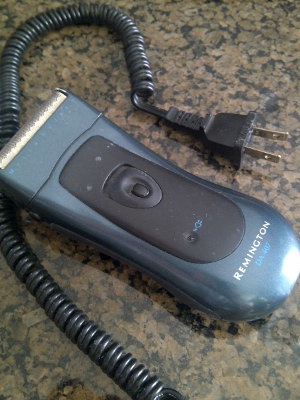 This is the first electric razor I've ever owned. It's an old Remington. You know... the old, "as close as a razor or your money back," brand. It hadn't worked in years, but because I have a hard time throwing things away, it sat in a drawer for several years, just waiting for me to come rescue it.
This is a rechargeable model, but long before the razor quit working, it quit charging, forcing me to plug it in every time I wanted to use it. It turns out that these old NiCd AA batteries weren't meant to last forever, so the first order of business was to rip them out and dispose of them (properly). At this juncture, I had a few options - one of which was to simply throw in a set of rechargeable batteries that I had sitting around. However, that would be too easy. And in fact, while testing the motor (bypassing the batteries entirely), I'm pretty sure I toasted the transformer.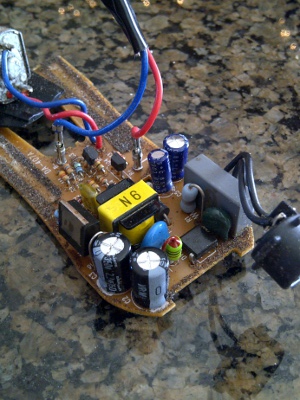 Batteries removed, and knowing that the charging circuit was more than I wanted to deal with, I decided that I'd simply bypass the entire thing and wire a power source directly to the razor motor.
Here's the connection between the power source and the motor.
And here's everything connected up. I could have taken the charging circuit out entirely, but that seemed like more work than necessary. So yeah - those are just a bunch of components just taking up space at the bottom of the razor.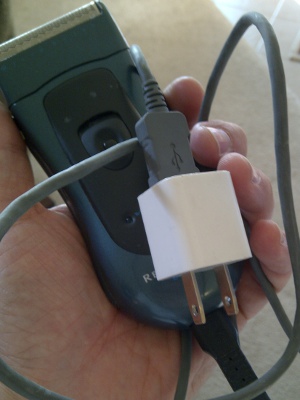 My choice of power supply? An extra iPhone USB charger. Alternatively, I could literally plug my razor into any computer and shave... right there in front of the screen.
comments [0]
MORE SHELVES
2010-07-27 20:57:52
by: jovial_cynic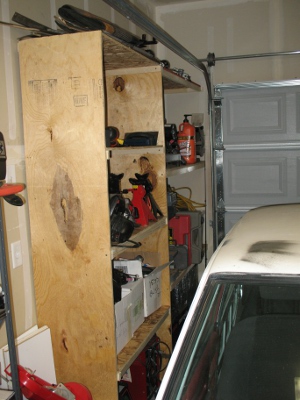 I've made two more shelves (one in my wife's garage, and two in mine), and I'm really starting to get the hang of it. In fact, with as many new houses as there are in my neighborhood, I'm thinking about going door to door and seeing if people want to buy my services to build custom shelves. Of course, doing it in this 3-digit heat doesn't sound like too much fun.
I also decided to try my hand at wall-mounted shelves. I'm using an old bookshelf that we didn't end up assembling after our move, and I like the way it's turning out. I can put regular shelves on the far side of my garage, but the near side has a wall that's nearly flush with the garage door opening, which means I don't have room for shelves to stick out at ground level. The solution is to hang the shelves above the height of my car.
Once this first one is done, I'll post more pictures.
comments [0]
GARAGE SHELVES 2.0
2010-07-24 21:23:43
by: jovial_cynic
Back in 2002, I pulled together a bunch of 2x4s and OSB sheeting and constructed some
garage shelves
. Lots of them. Unfortunately, I had to leave them in Washington when we moved down to California, because they took up so much room. On the bright side, I had fun building them, so making new ones sounded like a fun project.
I chatted with my father-in-law (former home-builder), and he advised against the 2x4 construction on account of it costing more and taking up too much room. Instead, he suggested simply using plywood and cleats.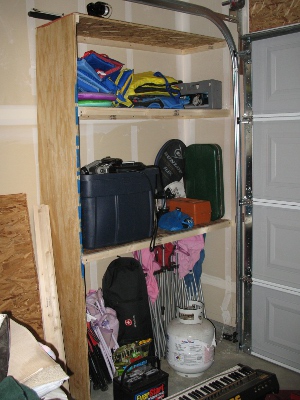 It took me a while to make the first one. It's more work, and it requires a lot of cutting. I used a circular saw to cut the shelves (16"x4') and the side wall (16"x7'), as well as the 16" and 46.5" 1x2 cleats. Normally, it wouldn't have been too bad, but it got up to 101 degrees today. Painful.
In any event, I'm impressed with how well it holds up. I was originally concerned that the shelves wouldn't be strong enough to hold much weight, but it looks like they'll work.
I'm also impressed with the price. That shelf in the picture ended up costing about $11, total. I've got plans to line my whole garage with these.
comments [

1

]
NOTHING A LITTLE SOLDER CAN'T FIX
2009-09-01 19:46:31
by: jovial_cynic
One of the best DVD players I've owned is the Philips DVP 642 - it was one of the first inexpensive DVD players on the market to play DVDs, VCDs, SVCDs, DivX and Xvid video files, as well as MP3s. I picked it up back in 2005, and it's treated me fairly well, until recently. One day, it simply wouldn't do anything except display a blinking red light around the power button. Red ring of death, I guess.
Doing some research on it, it turns out that a common cause for this problem is a blown capacitor - a 10v 1000uf capacitor that ends up bulging out, possibly due to a voltage overload. The fix -- simply replace the cap with a 16v or greater 1000uf capacitor.
The DVD player comes apart with the removal of about 10 screws. Having cracked it open, it took me a while to find the culprit: capacitor C316 (labeled on the board). That's because the document I was reading said the capacitor would be near the power plug.
The problem was actually half-way down the board away from the power plug. I wonder if some of these DVD players have boards arranged differently.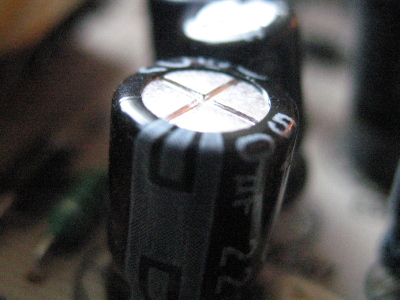 Here's what a healthy capacitor looks like.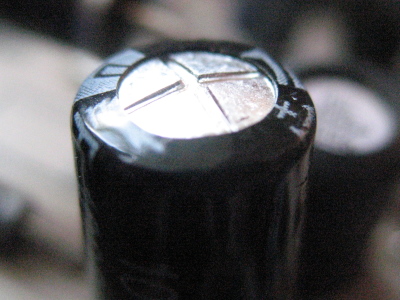 And here's the C316, bulging at the top.
Fortunately, a coworker of mine gave me a bunch of electrical components last year, and I've now got enough to compete with my local Radio Shack. I had a few 1000uf capacitors from which to choose.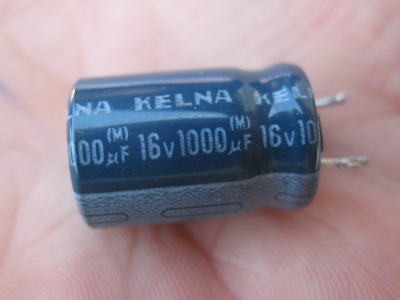 Here's the 16v capacitor. It's a little larger than the 10v cap.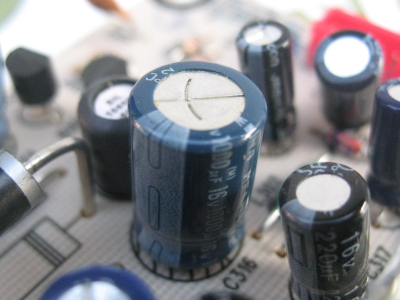 And here's the capacitor installed on the board.
Success!
comments [

8

]
2008-11-29:
THE METAL WORKSHOP
2008-11-15:
BACK UNDER THE HOUSE
2008-08-24:
GARAGE SHELVES
2008-08-15:
AND THE KITCHEN SINK
2008-05-19:
PLAYHOUSE FOR THE KIDS
2008-03-26:
NEW THERMOSTAT
2008-03-11:
WATER HEATER ADVENTURE
2008-02-17:
DARK ENCLOSED SPACES
2007-12-20:
LED MACRO RING LIGHT
2007-08-23:
WHIRLPOOL WASHER REPAIR
2007-04-26:
CHEAP HEAT
2007-03-20:
ICEMAKER
2006-12-09:
UTILITY TRAILER UPDATE
2006-12-08:
UTILITY TRAILER
2006-11-11:
DIY MULTI-MACHINE
2006-10-25:
GARBAGE. ALL OF IT.
2006-10-11:
JOVIAL_CYNIC VS. TIDE DETERGENT
2006-07-03:
RAISE THE ROOF?
2006-06-11:
MORE WOOD WORKING
2006-06-10:
WOOD WORKING
2006-05-17:
LUMBERJACK
2006-04-17:
ENERGY CRISIS
2006-03-16:
TOILET REPAIR ON THE IDES OF MARCH
2006-02-17:
HARDWARE FAILURE